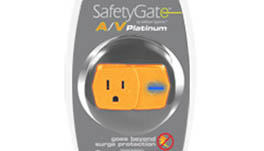 Weston, Connecticut
SafeStart Systems of Weston, CT has expanded beyond their line of electrical personal safety products with the new SafetyGate™ AV Platinum. This new adaptation of the successful SafetyGate product line was designed specifically to provide restart protection to flat screen televisions, high fidelity audio systems, gaming and other sensitive home entertainment electronics.
According to company spokesperson Kathleen Lombard, the SafetyGate AV Platinum provides critical protection "beyond surge suppression". "Power interruptions cause sensitive electronics to constantly turn on and off. This happens when you are at home, at work or away, causing excessive wear on the power supplies of your expensive equipment. Much like a standard light bulb, constant unnecessary power cycling measurably reduces the life of your video, audio and gaming equipment. The SafetyGate AV Platinum will prevent this cycling and allow your equipment to remain "off" after an outage until you are ready to use it. In addition to restart protection, the revolutionary patented SafetyGate AV platinum also provides, as an added benefit, professional grade surge protection at no additional cost."
The product has a suggested retail price of $29.99 and will be available at the company's www.safetygatestore.com ecommerce site in early February 2010. See the company's website for more information on this and other products by SafeStart Systems.